Elaine Rosenau, geb. Jaeger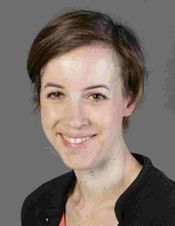 Infection of Zea mays by the basidiomycete Ustilago maydis causes smut disease and provides an important model for biotrophic host-pathogen interactions.
U. maydis penetrates the maize epidermis and leads to tumor formation in all aerial organs. The infection of seedling leaves, adult leaves and tassels induces organ-specific transcriptional changes in the pathogen as well as in the host. This projects aims for a functional characterization of the leaf-specific U. maydis effector Ara1, which is predicted to encode an α-L-arabinofuranosidase, a hemicellulose degrading enzyme.
Elaine Jaeger
University of Cologne
CEPLAS / Institute of Botany
Chair of Terrestrial Microbiology
Zülpicher Straße 47a
D-50674 Cologne

Mail: mjaeger5@smail.uni-koeln.de