Dr. Bilal Oekmen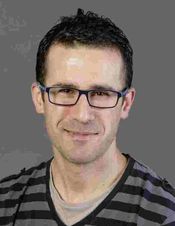 Research over the past decades has shown that plant pathogen effectors determine the outcome of host-pathogen interactions. Since effectors play essential roles in virulence of plant pathogens, their identification and functional characterization can provide new insights into the molecular basis of host-pathogen interactions and can eventually provide potential novel targets for improving current disease control strategies. My research project involves in understanding how smut fungus, Ustilago hordei, is able to infect its host plant, barley, with particular emphasis on what the function of fungal effectors during this process is. To study this, I apply various molecular biology and microscopic techniques.

Selected Publications
Bilal Ökmen*, Daniel Bachmann, Pierre JGM de Wit*. 2019. A conserved GH17 glycosyl hydrolase from plant pathogenic Dothideomycetes releases a DAMP causing cell death in tomato. Molecular Plant Pathology. doi: 10.1111/mpp.12872. (*Corresponding authors).
Johana Misas-Villamil*, André N. Mueller*, Fatih Demir,Ute Meyer, Bilal Ökmen, et al., and Gunther Doehlemann. 2019. A fungal substrate mimicking molecule suppresses plant immunity via an inter-kingdom conserved motif. Nature Communication 10(1):1576. doi: 10.1038/s41467-019-09472-8.
Weiliang Zuo, Bilal Ökmen, Jasper RL Depotter, Malaika K Ebert, Amey Redkar, Johana Misas-Villamil and Gunther Doehlemann. 2019. Molecular interactions between smut fungi and their host plants. Annual Review of Phytopathology, doi: 10.1146/annurev-phyto-082718-100139.
Bilal Ökmen, Daniel Mathow, Alexander Hof, Urs Lahrmann, Daniela Aßmann and Gunther Doehlemann. 2018. Mining the effector repertoire of the biotrophic fungal pathogen Ustilago hordei during host and non-host infection. Molecular Plant Pathology 19(12):2603-2622. doi: 10.1111/mpp.12732.
Bilal Ökmen, Bastian Kemerich, Daniel Hilbig, et al., Kerstin Schipper and Gunther Doehlemann. 2018. Dual function of a secreted metalloprotease in Ustilago maydis. New Phytologist 220(1):249-261, doi: 10.1111/nph.15265.
Carl H Mesarich, Bilal Ӧkmen, Hanna Rövenich, et al., Pierre JGM de Wit. 2017. Specific hypersensitive response-associated recognition of new apoplastic effectors from Cladosporium fulvum in wild tomato. Molecular Plant-Microbe Interactions 31(1):145-162. doi: 10.1094/MPMI-05-17-0114-FI.
Bilal Ökmen*, Jérôme Collemare*, Scott Griffiths, Ate van der Burgt, Russell Cox and Pierre JGM de Wit. 2014. Functional analysis of the conserved transcriptional regulator CfWor1 in Cladosporium fulvum reveals diverse roles in the virulence of plant pathogenic fungi. Molecular Microbiology 92(1):10-27. doi: 10.1111/mmi.12535. (*Equal contribution).
Ioannis Stergiopoulos, Viviane Cordovez, Bilal Ökmen, Henriek G Beenen, Gert H Kema and Pierre JGM de Wit. 2014. Positive selection and intragenic recombination contribute to high allelic diversity in effector genes of Mycosphaerella fijiensis, causal agent of the black leaf streak disease of banana. Molecular Plant Pathology 15(5):447-60. doi: 10.1111/mpp.12104.
Bilal Ökmen and Gunther Doehlemann. 2014. Inside plant: biotrophic strategies to modulate host immunity and metabolism. Current Opinion in Plant Biology 20:19-25. doi: 10.1016/j.pbi.2014.03.011.
Bilal Ökmen, Desalegn W Etalo, Matthieu HAJ Joosten, Harro J Bouwmeester, Ric CH de Vos, Jérôme Collemare and Pierre JGM de Wit. 2013. Detoxification of α-tomatine by Cladosporium fulvum is required for full virulence on tomato. New Phytologist 198(4):1203-14. doi: 10.1111/nph.12208.
Pierre JGM de Wit, Ate Van de Burgt, Bilal Ökmen, et al., and Rosie E Bradshaw. 2012. The genomes of the fungal plant pathogens Cladosporium fulvum and Dothistroma septosporum reveal adaptation to different hosts and lifestyles but also signatures of common ancestry. PLoS Genetics 8(11):e1003088. doi: 10.1371/journal.pgen.1003088.
Ioannis Stergiopoulos, Harrold A van den Burg, Bilal Ökmen, Henriek G Beenen, Sabina Van Liere, Gert HJ Kema, Pierre JGM de Wit. 2010. Tomato Cf resistance proteins mediate recognition of cognate homologous effectors from fungi pathogenic on dicots and monocots. Proceedings of the National Academy of Sciences 107(16):7610-5. doi: 10.1073/pnas.1002910107.
Dr. Bilal Ökmen
University of Cologne
CEPLAS / Institute of Botany
Chair of Terrestrial Microbiology
Zülpicher Straße 47a
D-50674 Cologne
Tel: +49 221-470-1960
Fax: +49 221-470-7406
Mail: bilal.oekmen@uni-koeln.de